Our Cleaning Services
Dryer Vent Cleaning
Lint Removing
Prevent Dryer Fires
Deep Cleaning Vents
Green Vent Cleaning
Complete Our Form
We Accept The Following

Rad Dryer Vent Cleaners in Houston Texas
If you ever lived in an apartment complex that uses a public laundry mat, you probably had to wait in line to wash or dry your clothes. As a result, you only washed when it was absolutely important. But as a homeowner now you have your own machine you wash often. Consequently, your dryer works hard every week, sometimes three or more times to dry your clothes.
Over time, your dryer accumulates a lot of lint that accumulates in the vents dramatically reducing the efficiency of your machine. You used to be able to dry your laundry quickly, but lately you have noted that your machine needs more time to dry clothes. Not only does this use up more energy, but it also increases your utility bills.
Professional Cleaning Services
Rad Houston Carpet Cleaning can professionally clean your dryer so that it can work efficiently.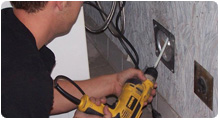 We can help you remove the risk of fire if your clothes are getting too hot in the dryer due to poor circulation. We are skilled at Lint Build up Removal to allow your dryer to have a better air circulation. In case you have a slow machine or one that is getting your laundry too hot, removing lint will take care of this problem. We have a lot of skills in solving this problem and can get your machine working just as it was when it was new. Just call us and within a short time your machine will be operating perfectly.