Our Cleaning Services
Air Duct Cleaning
Air Vent Cleaning
Mold Removing
Furnace Cleaning
Duct vent Cleaning
Complete Our Form
We Accept The Following

Rad Air Vent Cleaners in Houston Texas
Rad Houston Carpet Cleaning cares about the quality of air in its customers' homes and does everything possible to provide them with a healthy home environment. When you start smelling dust or having dry throat or even sneezing you know it's time to have your air vents cleaned.
If you need help Cleaning Air Vents you can call us at any time and a skilled technician will come and help you. You may never have had your vents cleaned before and are starting to think that you need this done since you can't stop sneezing every time that you turn on your air conditioner or your heater. We can take care of this service need for you at any time if you call us.
Professional Cleaning Services
When we provide you with the cleaning services, our results will demonstrate high quality.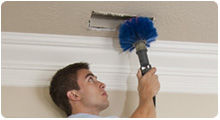 We are Professional Vent Cleaners that take their time to provide our homeowners with the services that they require and expect from a leading service provider. All our services are provided to our clients by technicians that are highly skilled and that have a lot of years of practical experience. We keep the needs of our customers first and we ensure that we deliver fully to their satisfaction. If you call us to clean your vents, you will be impressed at how fresh the air in your home feels.